Clark in action at Royal Athletic Park
What's more Canadian than having a Beaver on your baseball team? Having
two
Beavers on your baseball team, of course. On Wednesday morning the HarbourCats announced that they are bringing back slugger Gabe Clark next season and that they have also signed one of his Oregon State University teammates, Michael Gretler.
Clark is already the fourth player from the 2014 HarbourCats to commit to returning with the team next season. The junior from Riverside, California hit .291 with 8 homers and 31 RBI this past summer and finished third in
team MVP voting
. Although the WCL All-Star Game in Klamath Falls was rained out, Clark still represented the HarbourCats in fine fashion, as
he won the Home Run Derby
before the skies opened up and made the field unplayable. In the feel good story of the summer, his Dad, Jim Clark, served up the pitches that Gabe hammered in his home run assault. The scribes at the Victoria HarbourCats Baseball Blog were pleased to learn of Clark's 2015 return, especially since we'll be treated to another season of witty (and frequently pointed)
observations from Mama Clark
.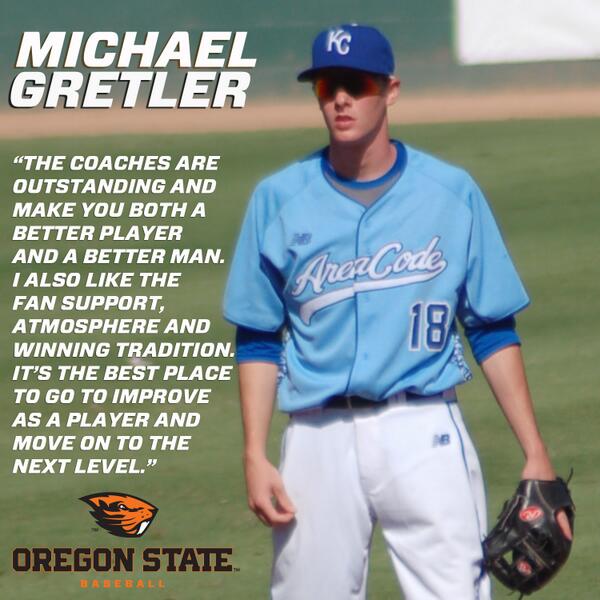 Gretler was drafted out of high school by the Boston Red Sox in the 39th round of this year's MLB draft, but he chose to go to Oregon State instead of turning pro. Gretler played shortstop at Bonney Lake High School and put up some big offensive numbers in his senior year: a .459 batting average with six homers and 22 RBI. He has some
serious pop in his bat
and a strong throwing arm. With the Beavers entering a rebuilding year, Gretler has a chance to earn more playing time than a freshman would typically receive at OSU, and he may see some action at third base, shortstop or even second base. He projects as a third baseman in the long term, so we may see him manning the hot corner for the HarbourCats next summer.
The signings bring the (announced)
roster for next season
up to a total of five players. Stay tuned for more roster details as they are released. From what we have seen so far, 2015 is shaping up to be a great season of HarbourCats baseball.