Alex Fagalde
We're only 88 days away from the HarbourCats' season opener, so let's get you caught up on the progress of a few more of our future 'Cats.
Cuesta College's
Alex Fagalde
returned to form last week in what was his best start of the season -- by a wide margin. Fagalde held Moorpark College to only one earned run on four hits and a walk in seven innings of work. He also struck out a season-high five batters. Fagalde now sports a 5.40 ERA and 1.34 WHIP in 28 ⅓ innings pitched this season. You can expect those numbers to keep improving.
Adam (AJ) Alcantara
continues to get just over half of the starting assignments in right field for UC Irvine. The sophomore had a base hit in five at-bats this weekend and he's now hitting .308 on the season with a .400 on-base percentage in 26 at-bats. He also has an RBI and five runs scored on the year.
In our
March 4th update
we told you about
PJ Floyd's
first collegiate hit, a pinch-hit triple that knocked in a pair of runs. Floyd was rewarded for his milestone hit with the first two starts of his college career this weekend. He batted leadoff and was the Designated Hitter for Sacramento State on Saturday and Sunday against the 17th-ranked UCSB Gauchos, going three-for-eight with an RBI and run scored. Although the freshman is normally a shortstop, Floyd has only played three innings of defense this year -- all at second base -- and has yet to face any fielding chances. He has a .364 batting average this season with three RBI in 11 at-bats.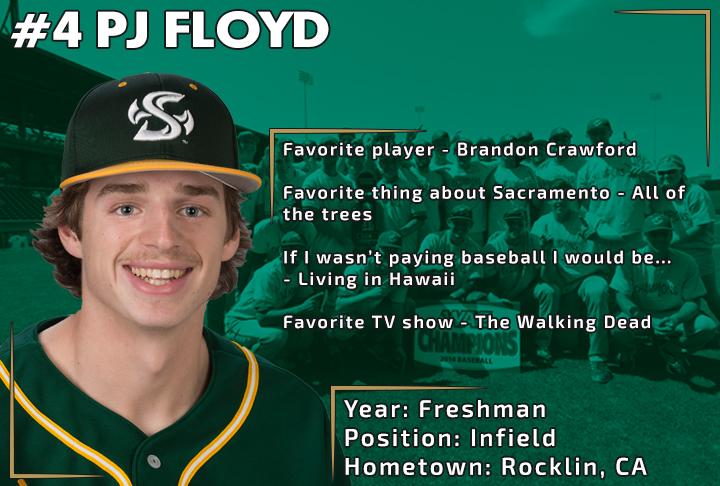 Junior
Dane Fujinaka
has remained on the Sacramento State bench due to former HarbourCat Gunner Pollman becoming entrenched as the starting catcher. Fujinaka has only played in one game this season and is two-for-three at the dish with an RBI. Although Pollman has an anemic .214 / .250 / .262
slash line
, he has gunned down an amazing 56% of stolen base attempts (14-for-25). By comparison, Fujinaka only threw out 13% of stolen base attempts (15-for-119) for Sacramento State last season.
UC Davis was in Bellevue, Washington this weekend to take on Seattle U in a three-game series. The Aggies took two of three from Seattle U, but future HarbourCats
Ryan Anderson
and
Matt Blais
did not see any action. UC Davis is 10-6-1 on the season, although they have benefitted from a relatively weak schedule so far.